Connell Foley LLP is pleased to announce that several firm partners were selected for inclusion in the annual "Irish Legal 100" for 2022. Recipients include John Cromie, Hon. Kim McFadden Guadagno, Leo Hurley Jr., Michael McBride, William McGloin, Philip McGovern Jr., and Robert Ryan. Furthermore, many of Connell Foley's honorees have been named to the Irish Legal 100 for multiple years.
The Irish Legal 100 list includes attorneys, legal scholars and members of the judiciary who have distinguished themselves in their fields of endeavor. Founded by the Irish Voice newspaper in 2008, it is an annual compilation of the most distinguished legal professionals in the United States who share one common bond: pride in their Irish roots.
Please join us again in recognizing the following seven partners.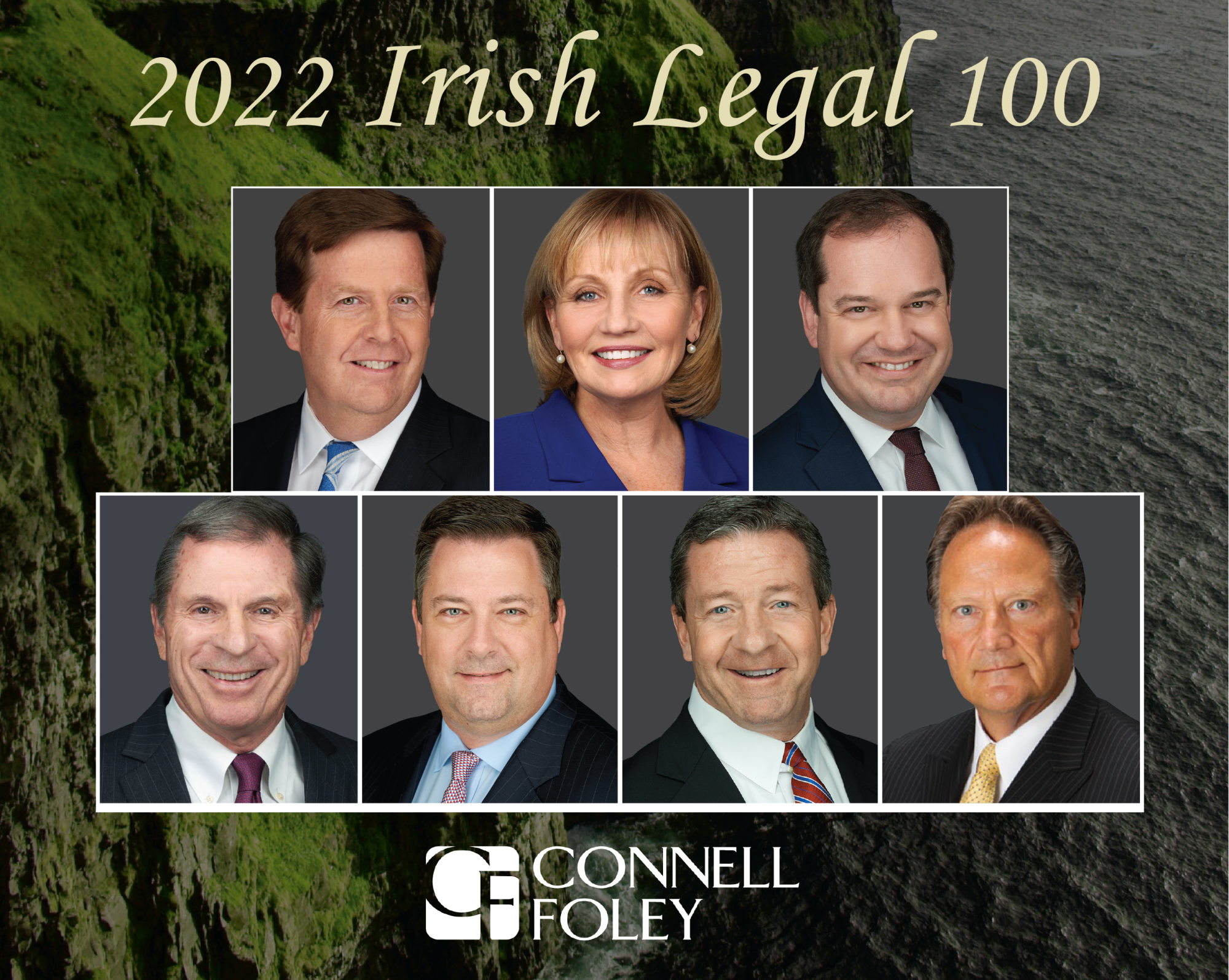 John Cromie, Chair of Connell Foley's Corporate and Business Law Group and a member of the firm's Executive Committee, has been named to the Irish Legal 100 since 2017. He represents entities ranging from Fortune 100 public companies to privately owned mid‑cap enterprises and startup ventures on a wide range of real estate and financing transactions. He is well-versed in the area of mergers and acquisitions, as well as in the purchase, sale, leasing and development of commercial real estate. John also has significant experience representing lenders and documenting asset-based and real estate-based commercial loans and credit facilities.
Hon. Kim McFadden Guadagno, a Partner in Connell Foley's Commercial Litigation group, concentrates her practice on assisting public and private clients with complex civil and regulatory litigation, white collar defense, public policy, crisis management and internal investigations. Lt. Governor Guadagno's extensive background in the public and private sectors gives her a distinct and unsurpassed perspective to enable relationship building for successful business strategies and economic development outcomes, as well as insights into local, state and federal policy issues. Working closely with each of Connell Foley's practice groups, Lt. Governor Guadagno counsels clients on local, state, and federal initiatives, economic development projects and various policy issues, while assisting them in all aspects of litigation.
Leo Hurley Jr., Vice Chair of Connell Foley's Commercial Litigation and White Collar Criminal Defense Groups, he is a seasoned litigator with a proven record of success in obtaining favorable jury verdicts, as well as guiding matters to resolution and early settlement, and is routinely called upon to represent corporations and individuals in high-stakes, high-profile and "bet the company" litigation. His practice ranges from complex commercial matters to white collar criminal defense, employment, products liability, class actions, estate and probate, trade secret, and corporate dissolution/oppressed minority shareholder litigation.
Michael McBride, Chair of Connell Foley's Construction Practice Group, has a family background in construction and real estate that dates back more than a century, providing him with an intimate knowledge of the industry and the legal issues faced by his clients. He regularly represents owners, developers, contractors and vendors in all aspects of real estate development and construction. Mike's projects include large-scale development of data centers, casinos, industrial tract and office developments, power plants, residential apartment and condominium projects, and shopping center developments.
William McGloin, a Partner in Connell Foley's Professional Liability, Insurance Defense, Product Liability and Commercial Litigation practice groups, has been selected for inclusion in the Irish Legal 100 every year since 2014. Bill helps businesses and individuals navigate and successfully resolve their complex legal issues through advocacy, risk management and, when needed, litigation. In particular, Bill has a deep appreciation of the unique issues associated with professional liability litigation and the devastating impact such matters can have on the professional faced with serious allegations of professional fault.
Philip McGovern Jr. is Connell Foley's Managing Partner and has been named to the Irish Legal 100 each year since 2015. From initiating the firm's initial key expansion into Jersey City 15 years ago, to a vision for continued growth in New Jersey and New York, Phil applies a keen business sense in identifying opportunities — both for Connell Foley as well as for his clients. A savvy transactional attorney, he concentrates primarily on commercial real estate and corporate transactions, real estate development, land use, complex commercial financing and commercial leasing.
Robert Ryan, Chair of the Professional Liability Group and Co-Chair of the Trial Practice Group at Connell Foley, has been named to the Irish Legal 100 every year since 2013. A six-time Certified Civil Trial Attorney as certified by the Supreme Court of New Jersey, Bob has dedicated his professional practice for over 35 years to the litigation and trial of substantial matters. His practice places particular emphasis on the representation of attorneys, architects and engineers in major professional malpractice litigation and he has served as lead counsel in the representation of professional firms in significant litigation matters venued in both the state and federal courts.