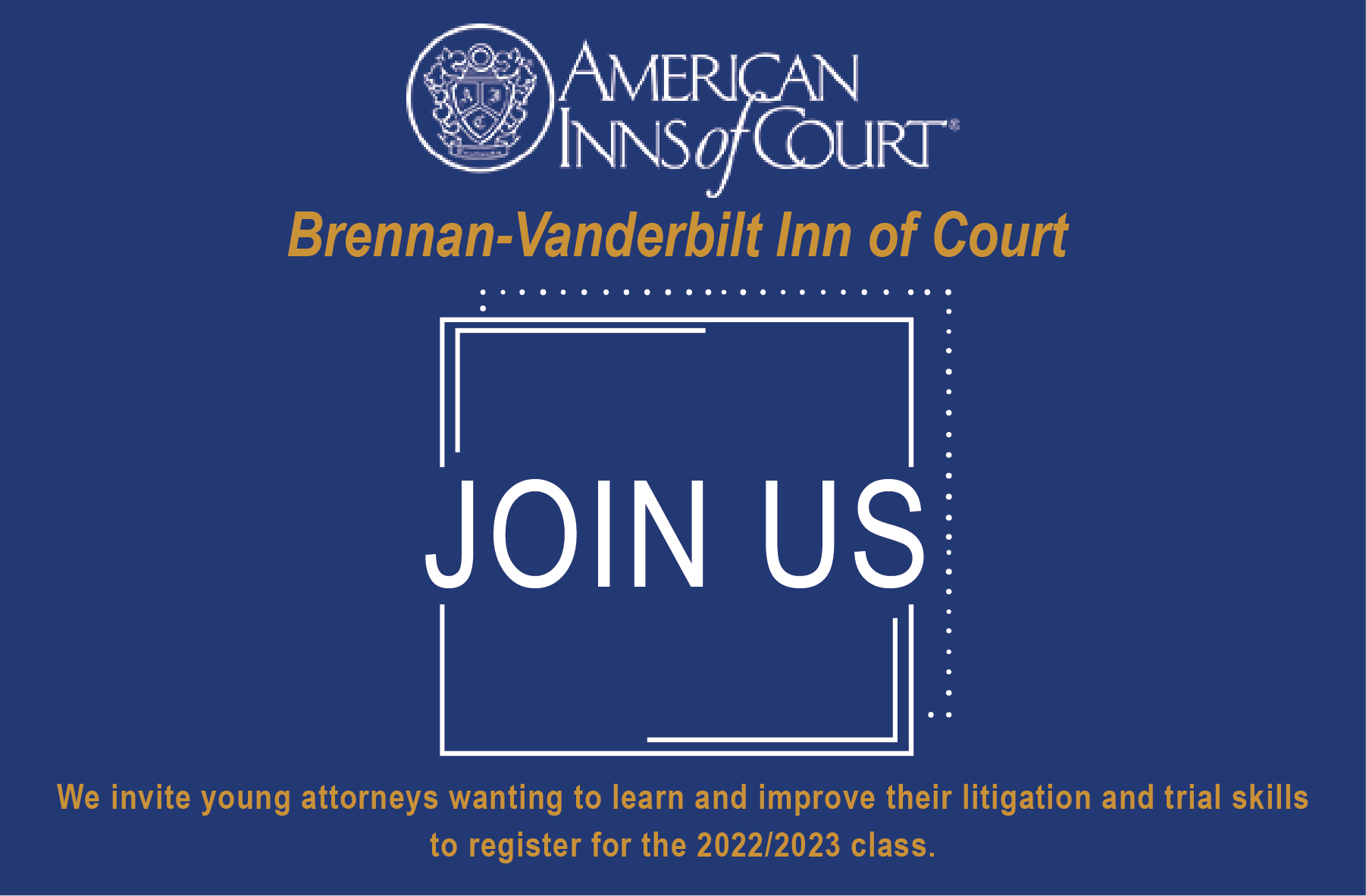 The Brennan-Vanderbilt Inn of Court, New Jersey's oldest Inn, will begin its next two-year session in late September 2022. The Inn's focus remains a trial/litigation skills program meeting once a month for 18 months (no sessions in July or August). The Inn "Masters and Barristers" now look to open its doors to a new class of practicing attorneys ("pupils") wanting to learn and improve their litigation and trial skills.
The Brennan-Vanderbilt Inn has been in existence since the early 1980s. Endless numbers of attorneys have "graduated" from the program and have excelled in their practices as a result of their involvement with our skilled teachers. The Masters of the Inn are senior members of both sides of the trial bar; sitting Judges of the Federal District and Superior Courts; and retired members of the local benches. The Inn "Barristers" are attorneys who graduated from the Inn and wish to continue on with their training as well as to assist the new pupils with their work and preparation.
At the monthly meetings (to be held at the Café at 56 Livingston Avenue, Roseland, NJ), the Pupils spend time socializing with the Barristers and Masters for a short period before the program begins. CLE credits are obtained for each program. The program will include demonstrations by the Masters on various elements of a Civil Case and Trial preparation and pupil demonstrations followed by critiques. There will also be a number of Guest presentations by non-Inn members but recognized experts at the Bar; medical experts; and experts from other fields directly related to the successful prosecution and defense of a civil law suit. At the conclusion of the monthly meeting/program, all members of the Inn enjoy a dinner during which thoughts and ideas are shared and discussed. The annual fees, which cover the cost of the program and the meals, are under $500 a year (which includes the CLE credits received).
To register for the 2022/2023 class, please contact Brian Steller at bsteller@connellfoley.com.