March 11, 2015 -- Connell Foley LLP was honored with a "Champion of Good Works" Award by the Commerce and Industry Association of New Jersey (CIANJ) at the 2015 CIANJ Chairman's Reception. Recognizing "Companies that Care: Giving Back, Paying it Forward," CIANJ presents this Award to companies that take extraordinary steps to help others, support local communities and reach out to those in need.
More than 200 business executives attended the Chairman's Reception at the Stony Hill Inn in Hackensack on March 11. Martin Kafafian, chairman of the CIANJ board of directors, presented trophies to 31 businesses in recognition of their commitment to corporate philanthropy. "For most of these companies, their donations, kindness and community outreach are part of their corporate culture -- their mission," said Kafafian. "The public at large is often unaware of the magnitude and scope of the good works. This reception is our way of shining a spotlight on "Companies that Care."
Connell Foley received the "Champion of Good Works" Award in recognition of the firm's ongoing commitment to and support of Rebuilding Together - Jersey City, the local chapter of a national non-profit that rebuilds homes, community spaces and nonprofit facilities to help stabilize and revitalize neighborhoods across the country. For the past 13 years, Connell Foley attorneys, staff and family members have worked on numerous projects for Rebuilding Together Jersey City through its Annual Rebuilding Day. Each year, approximately 25-30 Connell Foley volunteers roll up their sleeves and help rehabilitate either a low-income home or a community facility, including the Boys and Girls Club, St. Lucy's homeless shelter, Women Rising and the YMCA. This past year, the firm's participants worked to help refurbish the Camp Liberty facility, which is a summer camp for inner city children. Recognizing the importance of giving back to the community and lending a helping hand, the firm's volunteers have put in thousands of hours working on these projects.
The CIANJ is a statewide business advocacy organization based in Paramus that represents more than 900 member companies from every business sector. The association asked businesses to tell stories of their good works; a panel of judges reviewed all the submissions and selected 31 champions. The judges included: Cathleen Davey, executive director of the Ramapo College Foundation; John Galandak, president of the CIANJ; Jackie Lue Raia, assistant director of the NJ Sharing Network; Cindy Myer, the owner of Ridgewood Moving Service who also serves as president of the board of the Center for Hope and Safety; Jacey Raimondo, executive director of the Habitat for Humanity of Bergen County; Judi Stewart, an ambassador with the CIANJ Human Resources Council; and Tom Toronto, president of Bergen County's United Way.
Along with the champions, the CIANJ also honored Sal Lauretta for Men, a family-owned Midland Park men's clothing store, for its "Extraordinary Good Works." Over the past five years, the company organized a fashion show that raised more than $460,000 for Eva's Village, a social service agency in Paterson that provides food, shelter and counseling to those in need.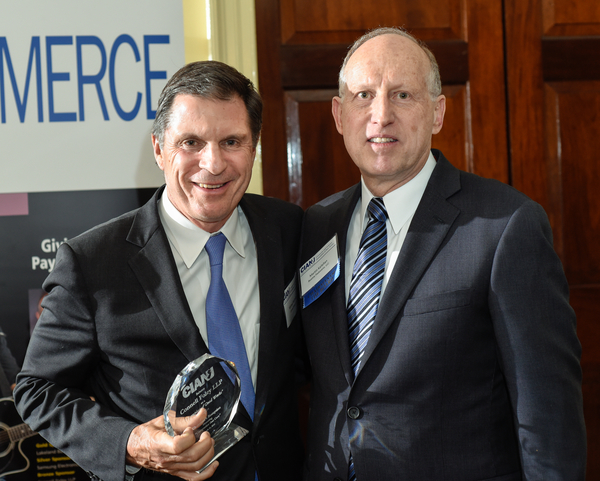 Michael McBride (L), Managing Partner of Connell Foley, accepts the CIANJ "Champion of Good Works Award" on behalf of the firm.