ROSELAND, N.J./May 17, 2011 -- In keeping with its rich tradition of supporting local charitable organizations, 25 volunteers from Connell Foley LLP recently completed the refurbishment of Camp Liberty in Jersey City, N.J.
The Camp Liberty project took place on April 30, 2011, and was part of a larger program conducted by Rebuilding Together Jersey City which included renovation to residences and non-profit community based facilities throughout Jersey City.
A highlight of the event was the raising of the American flag donated to Camp Liberty by Rebuilding Together Jersey City. The Connell Foley team and the union tradesmen led by Jim Mock, director of the entire program, joined together to raise the flag which will fly at the camp.
Camp Liberty provides recreational activities daily for more than 240 boys and girls, ages 6 to 12.
Jonathan Rodriquez, husband of Connell Foley employee Jocelyn Rodriquez, was part of the Connell Foley team and presided over the flag rising. Jonathan served in the Middle East in tours in Iraq as a member of the United States Marine Corps. Jonathan's presence inspired all participants. The Connell Foley team and others also generously supported the food bank that seeks contributions of food stuff in connection with the Project.
"Connell Foley is pleased to participate in the Camp Liberty project and to support the community-based recreational facility for inner city youth," said Michael X McBride, Managing Partner at Connell Foley.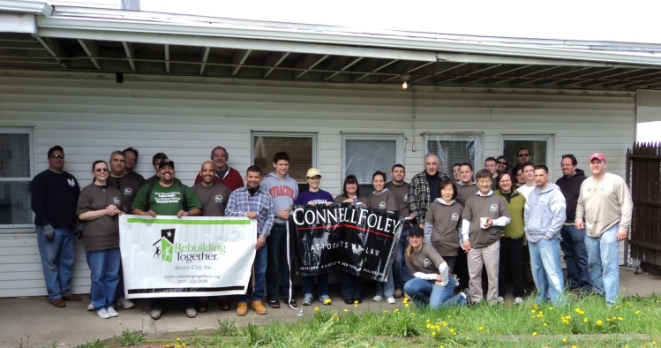 Connell Foley and Rebuilding Together Jersey City Volunteers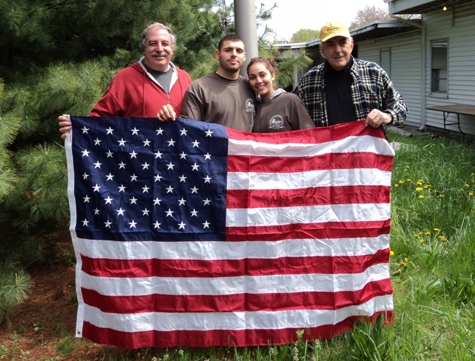 From Left - Jim Mock, Jonathan Rodriquez, Jocelyn Rodriquez, and John Murray (Connell Foley)