ROSELAND, N.J./November 18, 2011 -- As part of its community outreach program, Connell Foley LLP is donating $5,000 to The Community FoodBank of New Jersey. The donation will provide Thanksgiving turkeys for over 300 families in New Jersey counties where Connell Foley offices are located. The communities of Newark, Jersey City, Asbury Park, and Camden will each receive 75 Thanksgiving turkeys for distribution to needy families. The number of turkeys has special significance for Connell Foley, as the firm is proudly marking its 75th anniversary this year.
"Everyone knows that, for many people, times remain difficult. This donation seemed a fitting demonstrable action we could take as a firm to show our commitment to helping others less fortunate and struggling to put food on the table," stated Connell Foley Managing Partner Michael X. McBride.
Connell Foley wanted to support the communities in which it works. Founded in 1936, the firm has deep roots in Essex County, with its first office in Newark. As the firm grew, Connell Foley moved to its current headquarters in Roseland. The firm also has New Jersey offices in Jersey City, Cherry Hill, and Spring Lake, as well as offices in New York City and Philadelphia.
"Connell Foley has much to be thankful for," added McBride. "Despite the economic environment, we have been able to expand our practice across the Tri-State area. Given our good fortune, it would be unconscionable to not support these communities. We hope our donation spurs other businesses to help us provide a better Thanksgiving for needy families throughout New Jersey."
About New Jersey FoodBank
The Community FoodBank of New Jersey, a member of Feeding America, distributed 39 million pounds of food in the last year to help feed 900,000 people in 18 of New Jersey's 21 counties. Its staff and volunteers fight hunger and poverty not only through the distribution of food and grocery products, but by education and training, and by creating new programs to meet the needs of low-income people. The Community FoodBank of New Jersey has earned Charity Navigator's highest honor, a four-star rating, for three consecutive years.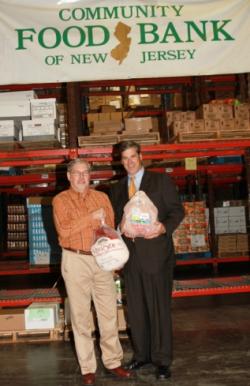 Tim Vogel, Director, Food Sourcing at Community FoodBank of NJ (left), Connell Foley Partner, Brendan Judge (right)