ROSELAND, N.J./June 19, 2006 -- Connell Foley LLP participated in the "Battle of the Barristers" softball game on Monday, June 19, and helped raised a record $112,000 for the Greater Newark Fresh Air Fund. The proceeds of the benefit are used to send underprivileged children to camp. Connell Foley, along with fourteen other New Jersey-based law firms and legal support firms, squared off at Branch Brook Park in Newark. Federal judges and staff served as umpires. The day ended with a second-place finish for Connell Foley after a championship game played under the lights at Bears & Eagles Riverfront Stadium.
"It's a great feeling knowing that you are out there having fun, playing softball, and yet at the same time you are benefiting underprivileged children," said Kenneth F. Kunzman, partner and pitcher for Connell Foley. "For a few hours we can let go of the suits and loafers and benefit a good cause."
The tournament was established 20 years ago by Newark attorneys and has raised more than $1 million for the Fresh Air Fund since its inception.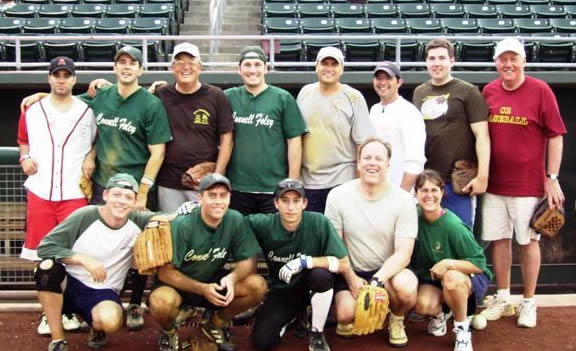 Pictured above is Connell Foley's team. From left to right, back row: Christopher Abatemarco, Matthew Schultz, John Bissell, Gregory Peterson, Jonathan McHenry, Craig Rosen, Christopher Hemrick, Kenneth Kunzman; front row: James Haynie, Patrick Brannigan, Samuel Hattem, Steve Barnett, and Jodi Hudson