ROSELAND, N.J./April 18, 2012 -- "The Power of the Governor," an hour-long documentary for which Kent Manahan was the Executive Producer, has been awarded the prestigious 2012 New York Emmy in the category of Politics/Government Program Special. The film, facilitated by the law firm of Connell Foley, brought together four former Garden State Governors: Brendan Byrne (1974-1982), Tom Kean (1982-1990), Jim Florio (1990-1994), and Christie Whitman (1994-2001).
Narrated by Manahan, an accomplished professional and a former NJN anchor who spent 30 years with NJN, this achievement makes her sixth Emmy; she is also the recipient of the Scripps-Howard National Journalism Award, the Philadelphia Press Association, and National Association of Women in Television Awards.
More than 2,000 entries competed in over 100 categories for Emmy® awards in New York, which is the number one television market.
The production spotlighted the role the most powerful position in state leadership and its authority, unequaled by any other. Former heads of state, historians, and political experts traversed New Jersey's historical timeline, to Colonial times. Archival NJN News footage enriched the footage with photographs and highlights gubernatorial activities.
Managing Partner Michael X. McBride stated, "Our firm is truly pleased that this important piece has attracted the public's attention and that Connell Foley has been a participant in this noteworthy production. Generations will be able to learn about the balance of powers of the various branches of government and about how our state's government works. Congratulations to everyone involved in helping bring this project to successful conclusion."
The Power of the Governor is scheduled to rebroadcast on NJN's successor network NJTV at 10:00 p.m. on May 24, 2012. A review by The Star Ledger is available for viewing here.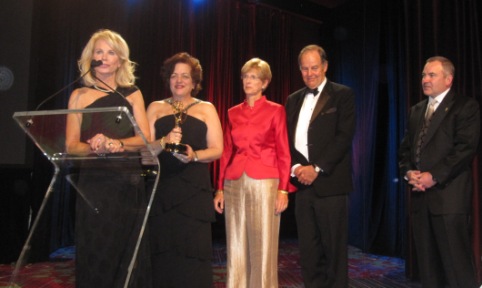 Shown from left: Kent Manahan (Former NJN News Anchor), Janice Sellinger (Formerly of NJN), Governor Christie Whitman, Governor Tom Kean, and Bernie Flynn (President and CEO, New Jersey Manufacturers)