Connell Foley's Professional Liability partners William McGloin and Craig Demareski will present "Professional Malpractice and Risk Management for Engineers 2023" for the American Council of Engineering Companies of New Jersey's (ACECNJ) 2023 Emerging Leaders Program on May 18, 2023.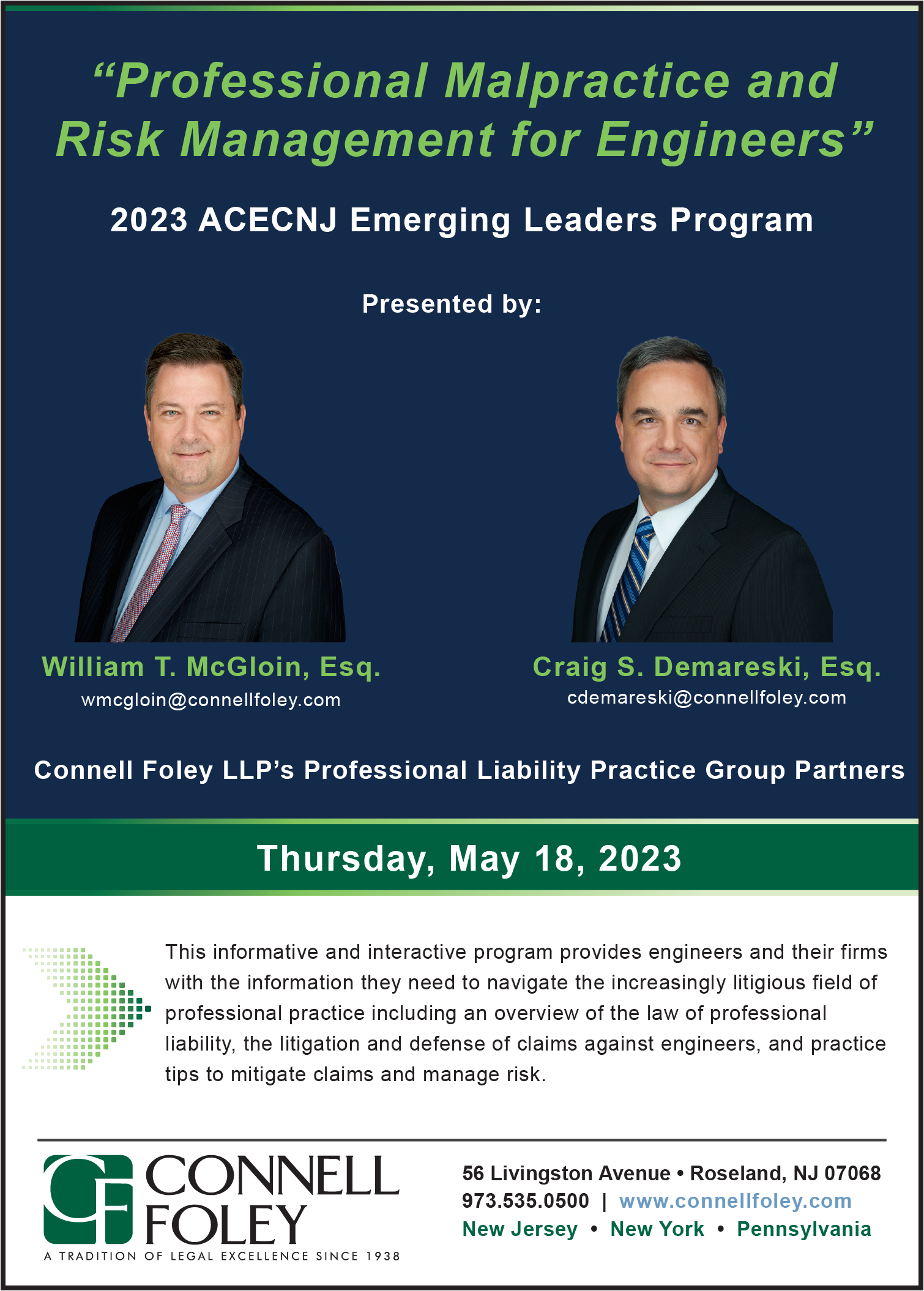 This informative and interactive program provides engineers and their firms with the information they need to navigate the increasingly litigious field of professional practice, including an overview of the law of professional liability, the litigation and defense of claims against engineers, and practice tips to mitigate claims and manage risk.
Connell Foley is pleased to participate in the ACECNJ Emerging Leaders Program for the last five years. The program is designed for ACECNJ member engineers looking to develop their leadership abilities and other skills critical for success.
Bill brings more than 30 years of experience to bear for professionals and companies in diverse industries. His outstanding track record of successful outcomes across the full spectrum of civil matters, particularly professional liability. He also represents architects and engineers in assorted claims for personal injury, property damage and economic loss related to design, construction and project management disputes.
Craig represents clients in a wide range of professional liability matters. In particular, he regularly defends attorneys, engineers, architects and other professionals in major professional malpractice litigation. With 20+ years of experience from which to draw, Craig achieves swift, successful, and cost-effective results for a diverse group of clients through advocacy, risk management and litigation.
ACECNJ's "Emerging Leaders" program is a three-part, invitation-only program for ACECNJ members. It is designed for engineers committed to developing their leadership abilities, and imparts specific skills and competencies identified by top ACECNJ principals as critical for leadership success.