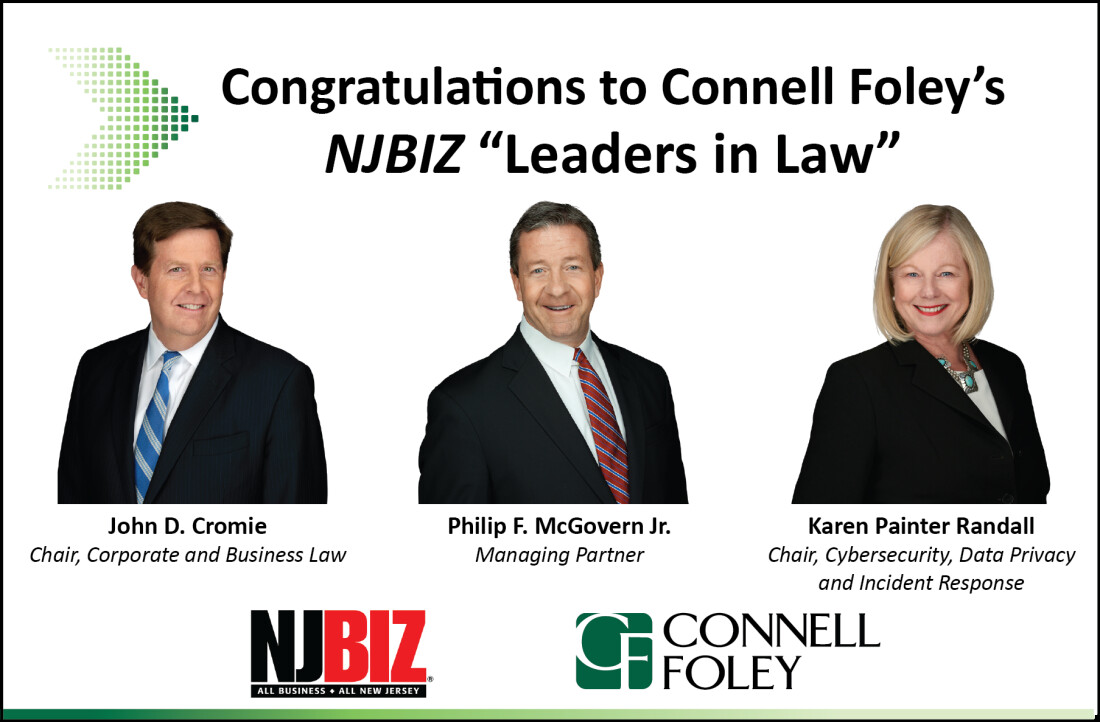 Connell Foley is pleased to announce that three firm Partners have been named by NJBIZ as "Leaders in Law." Corporate and Business Law Chair John D. Cromie, Managing Partner Philip F. McGovern Jr., and Cybersecurity, Data Privacy and Incident Response Chair Karen Painter Randall are among the honorees selected by NJBIZ for their "outstanding" dedication to their occupation and to their communities. Furthermore, Connell Foley is tied for the law firm having the most honorees recognized as "Leaders in Law."
John Cromie, who also serves on Connell Foley's Executive Committee, is the driving force behind the growth of the firm's Corporate and Business Law Group. His clients range from Fortune 100 public companies, to privately owned mid‑cap enterprises, startup ventures, government entities and non-profit organizations. With broad experience across corporate and real estate matters, John guides his clients through complex business transactions and growth-oriented opportunities, as well as succession planning. He is also Immediate Past Chair of the Board of Directors of USLAW Network, an invitation-only international legal referral network comprised of over 6,000 attorneys. Active in his community and with various non-profits, John volunteers considerable time to help bring much-needed services to underserved and vulnerable populations. He also mentors young professionals entering the legal profession.
As Managing Partner of Connell Foley, Phil McGovern has been instrumental in the firm's growth over many years. Practicing in Connell Foley's Real Estate and Land Use Group, Phil initiated the firm's initial key expansion into Jersey City nearly 20 years ago. Under his leadership, he has grown the Jersey City office into the second largest of the firm's six offices, and developed a team of real estate attorneys unrivaled in their experience and accomplishments handling the area's most important real estate development projects. In addition to his management successes, Phil has devoted a substantial amount of time working with many organizations dedicated to the betterment of the community, including the Hudson County Chamber of Commerce, Jersey City Economic Development Corporation, and the Township of Nutley Planning Board, as well as St. Peter's Preparatory High School in Jersey City.
Karen Painter Randall founded and chairs Connell Foley's Cybersecurity, Data Privacy and Incident Response Group, one of the first such practices in New Jersey. She has been instrumental in developing and spearheading numerous local and national efforts to ensure organizations understand best practices to safeguard data and remain secure when facing increasing cyber-threats. She leads or is actively involved in the New Jersey State Bar Association's Cybersecurity Legal Task Force, the University of South Carolina School of Law's Cybersecurity Legal Task Force, the USLAW Network Data Privacy and Security Group, and the American Bar Association Cybersecurity Task Force, among others. Karen also donates her time to local community organizations to raise awareness on privacy and cybersecurity, and has served as a cyber ambassador to K-12 schools to educate and raise awareness about cyber-risk and the dangers of online bullying.
John, Phil and Karen, and the other honorees, will be recognized at a virtual event to be held on May 13, 2021. Please click to read more about the "Leaders in Law."