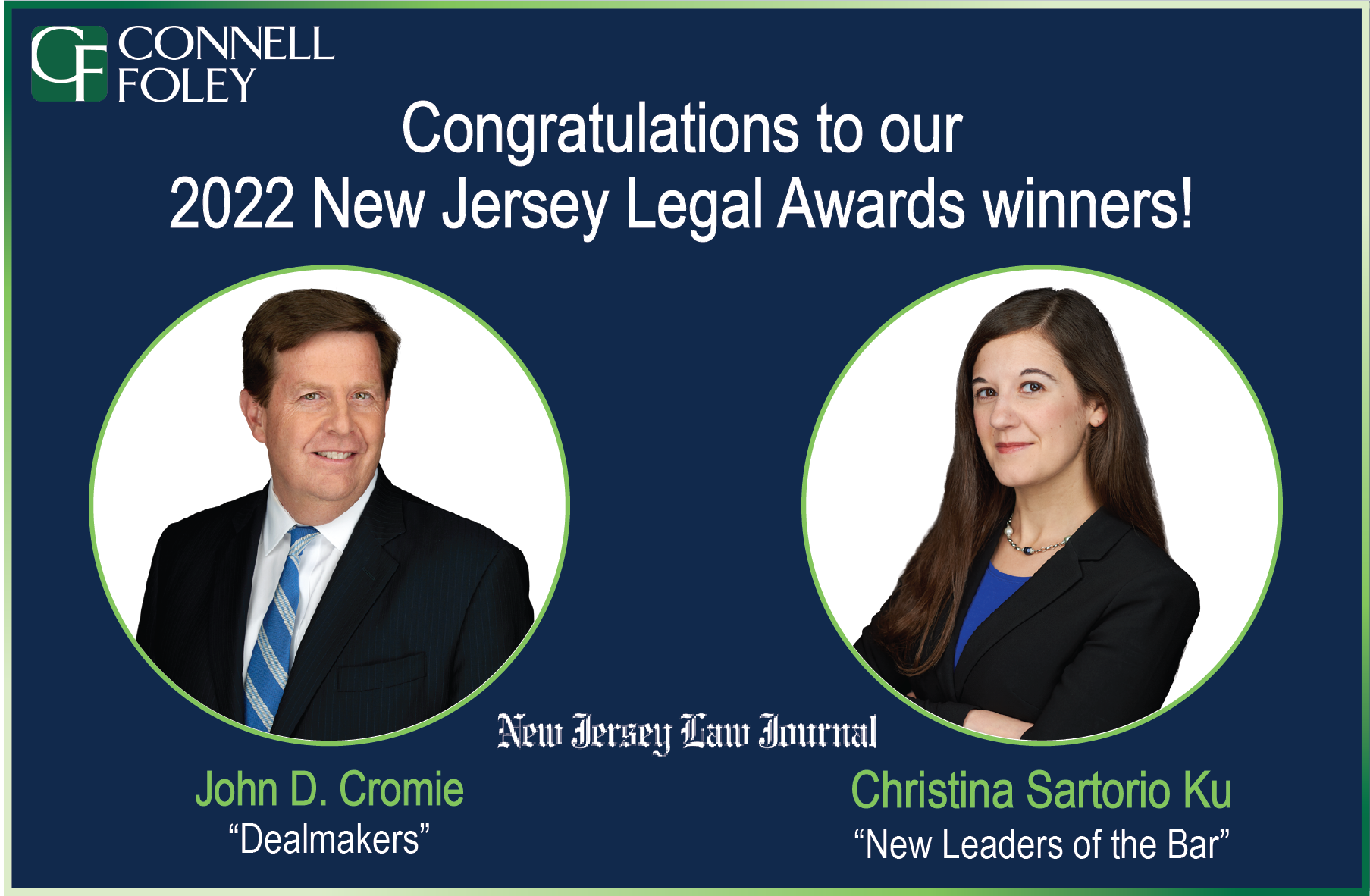 Connell Foley LLP is proud to announce that firm partners John Cromie and Christina Sartorio Ku have been named by the New Jersey Law Journal as among the winners of this year's New Jersey Legal Awards.
John, Chair of Connell Foley's Corporate and Business Law Group, was selected for a "Dealmaker of the Year" Award, and Christina, a partner in the firm's Environmental Law Group, was chosen as a "New Leader of the Bar."
As Chair of Connell Foley's Corporate and Business Law Group, John has built a top-notch corporate practice, growing and mentoring a team of equally dedicated transactional lawyers, while making time to support numerous worthwhile causes. His clients range from Fortune 100 public companies, to privately owned mid‑cap enterprises, startup ventures, government entities and non-profit organizations. With broad experience across corporate and real estate matters, he guides clients through complex business transactions and growth-oriented opportunities. John also has a niche practice serving as outside general counsel to closely held family businesses, and has successfully led many clients through succession plans and M&A transactions that ensure their continued viability. In his role as outside general counsel to many businesses, John provides a "one stop shop" for in-house legal teams and business owners, underscoring the trust clients place in his capabilities.
Christina was named a partner at Connell Foley in 2021. With a background in biological sciences and environmental regulation, Christina handles a wide array of complex environmental matters, including some of the most significant environmental cases in New Jersey. Her litigation experience covers the full range of environmental laws/regulations, providing clients guidance and interpretation of the extremely complex and often contradictory interplay of state/federal laws. She also advises on regulatory enforcement and compliance involving hazardous waste and site remediation; and federal/state cost recovery and contribution claims. Christina has worked in several capacities representing state/federal regulators in resolving land use issues and advises clients on potential environmental concerns involving prior or current property operations.
John and Christina will be recognized along with the other award winners at the New Jersey Legal Awards 2022 Gala on September 29, 2022, at Brooklake Country Club.
To read the complete list of winners across all awards categories, please visit the NJLJ website.