Connell Foley LLP is pleased to announce that the firm has elevated five attorneys to Partner, and two attorneys to Of Counsel. As noted by Managing Partner Philip F. McGovern Jr., "each of these individuals has contributed significantly to the success of Connell Foley, and we extend well-deserved congratulations to them all."
Our newest class of Partners includes:
Thomas D. Forrester Jr. (Environmental Law, Professional Liability)
Aaron H. Gould (Commercial Litigation, Insurance Coverage)
Christina Sartorio Ku (Environmental Law, Real Estate and Land Use)
Meghan K. Musso (Environmental Law, Mass and Toxic Tort Litigation)
Nicholas W. Urciuoli (Insurance Coverage, Commercial Litigation)
In addition, the following were elevated to Of Counsel:
Thomas P. Leane (Real Estate and Land Use)
Brittany E. Miano (Taxation and Estate Planning)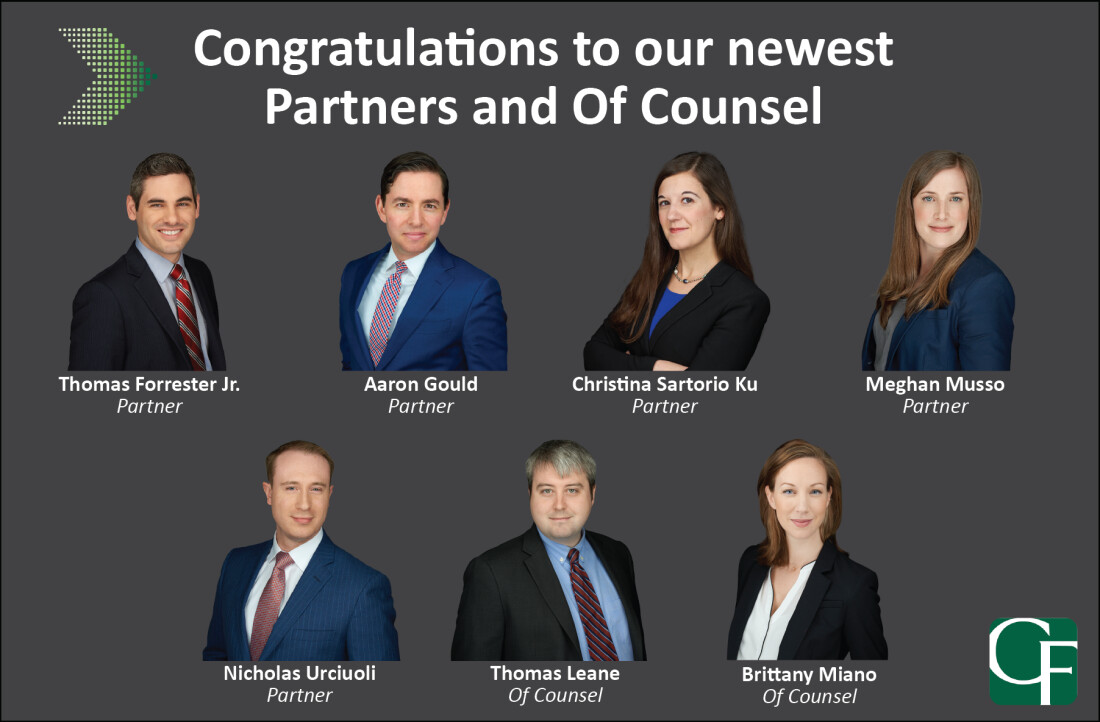 Tom Forrester has a broad range of experience in the areas of environmental law, commercial litigation, construction, trade secret litigation and professional liability. As part of his environmental practice, Tom advises on environmental litigation and enforcement matters, including site remediation and product liability claims. His experience includes representing potentially responsible parties at CERCLA/Superfund sites. In the area of professional liability, Tom focuses on the representation of attorneys, architects, engineers and other professionals in professional malpractice litigation. His experience includes representing regional, national and international professional firms in significant litigation matters.
Aaron Gould is a civil litigator whose practice focuses on representing clients in complex insurance coverage disputes, including environmental and catastrophic claims, as well as other complex commercial litigation. He works with insurance companies to resolve coverage issues and claims and, if necessary, on litigation. Aaron also provides counsel to businesses and individuals to resolve disputes that could result in litigation. He has extensive experience acting as local counsel for matters venued in the state and federal courts of New Jersey and New York.
Christina Sartorio Ku applies a background in biological sciences and environmental regulation to a wide range of complex environmental matters. In particular, she advises on environmental litigation involving CERCLA and the New Jersey Spill Act, regulatory enforcement and compliance matters including hazardous waste, site remediation, and federal and state cost recovery and contribution claims. Christina also works with clients as well as state and federal regulators to resolve land use issues such as those related to permitting, waterfront development and public access easements.
Meghan Musso practices primarily in the areas of environmental and tort law. In particular, she advises on matters involving environmental liability, mass tort defense, product liability, insurance defense, and corporate and commercial disputes. Meghan also has experience in issues related to equitable and emergent relief, foreclosure law, employment litigation and the Fair Debt Collection Practices Act. Meghan was part of the Connell Foley team that prepared a Petition for Writ of Certiorari to the United States Supreme Court on an issue of national significance involving the FDCPA.
Nick Urciuoli advises clients in all stages of complex litigation, including pre-suit counseling. He regularly represents property and casualty insurers in first- and third-party coverage disputes involving primary, umbrella, and excess policies in varied commercial insurance lines, including management and general liability. Nick has achieved favorable results for his insurer clients in diverse forums, including New York and New Jersey courts, on matters involving, for example, the duty to defend, the obligation to reimburse defense costs, number of occurrences, allocation, reinsurance, the notice condition and numerous policy exclusions.
Tom Leane assists clients across a broad range of real estate, redevelopment, environmental and litigation issues. Thomas represents a wide array of property owners in obtaining entitlements for residential and commercial developments. He regularly appears before land use boards and municipal councils in order to obtain site plan approvals, variances, zoning and redevelopment plan changes and tax abatements.
Brittany Miano practices in the area of tax and estate planning. In particular, she focuses on the administration of estates and trusts, counseling fiduciaries in their role as executor, administrator or trustee. Brittany has extensive experience assisting clients in post-mortem tax planning, managing estate/trust assets and guiding clients through both federal and state tax filing requirements, including estate and inheritance tax audits.