Connell Foley was proud to participate in USLAW NETWORK's first-ever recruitment forum, held in partnership with Howard University School of Law in Washington, D.C. in September 2019. The event featured 16 USLAW member firms that held interviews with nearly 60 second- and third-year law students from Howard. The students participated in a full afternoon of interviews for either clerkships next summer or for attorney positions after graduation. In addition to the interviews, several students attended USLAW's client conference educational sessions later in the week.
The recruiting forum was spearheaded by the USLAW Diversity Council, an initiative conceptualized by Connell Foley partner John Cromie during his time as Chair of the USLAW Board of Directors (2017-2018). The goal of the forum is to expand the opportunities for qualified law students, while at the same time providing member firms with access to a talented pool of potential future candidates. In addition to John, firm partner Neil Mody also participated in the student interviews at the forum.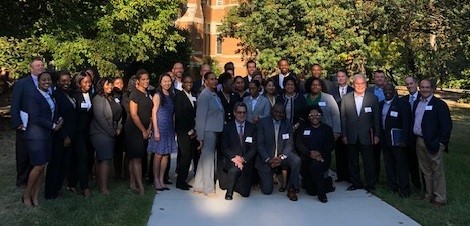 Photo: USLAW member attorneys and Howard University law students gather for the inaugural USLAW Recruitment Forum. Photo courtesy of USLAW NETWORK.
About USLAW NETWORK: "USLAW is an international organization composed of more than 60 independent, full practice firms with roots in civil litigation, including more than 6,000 attorneys across the U.S., Canada, Latin America and Asia, and with affiliations in Africa and with TELFA in Europe. USLAW is comprised of highly rated law firms that are part of the NETWORK by invitation only. Member firms undergo a rigorous review process to insure outstanding quality of lawyers throughout the USLAW NETWORK. USLAW firms are experienced in commercial and business law, employment and labor law, litigation and other business-related areas of law. All firms have substantial trial experience. USLAW member firms provide legal representation to major corporations, insurance companies, and large and small businesses alike."