Several Connell Foley partners will be featured during the upcoming USLAW NETWORK Worldwide Virtual Retreat: 2021 and Beyond. This 10-day program will take a look ahead and address significant business, legal and economic issues expected over the next one to three years. It is designed for general counsel, in-house counsel, heads and managers of claims and risk, C-suite executives, and other legal decision makers. 6.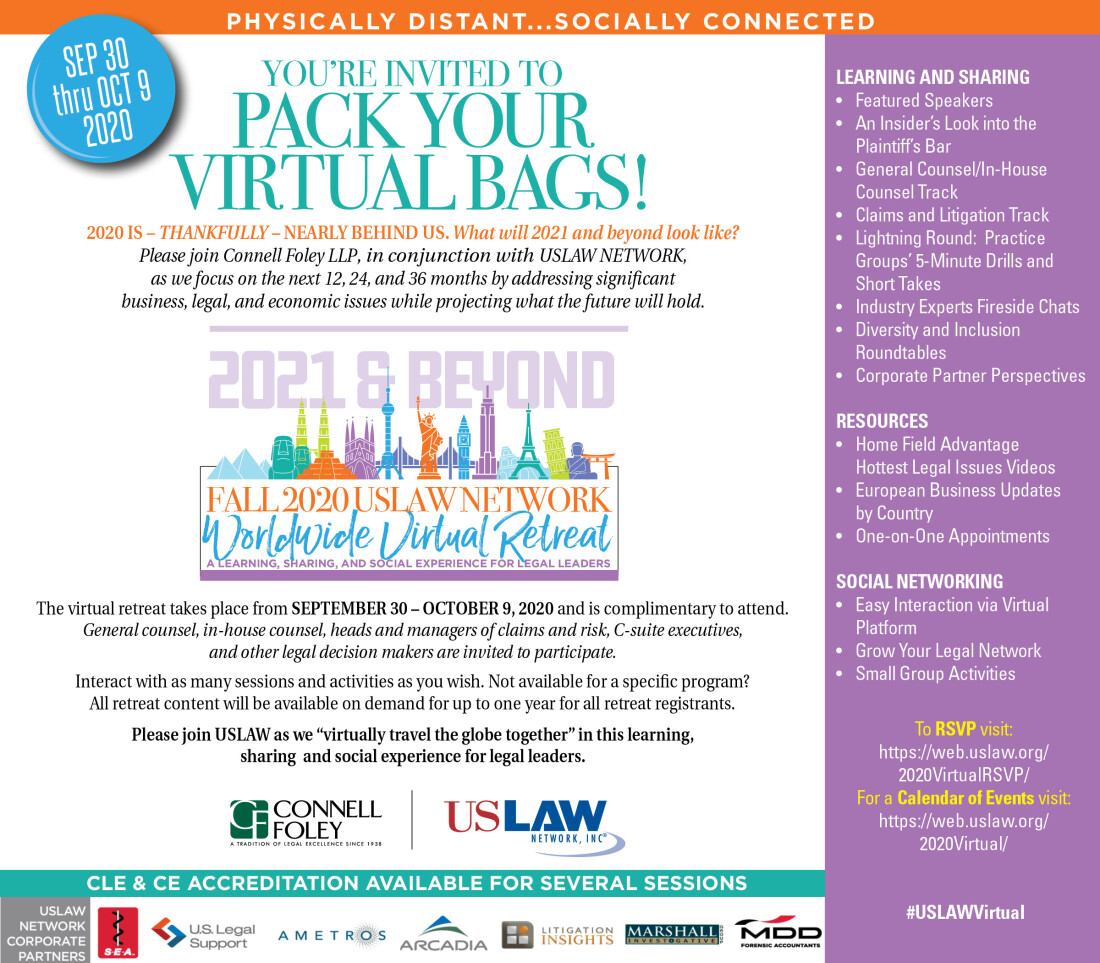 John Cromie, Chair of Connell Foley's Corporate and Business Law Group and a past Chair of USLAW, will present with James Snyder of Klinedinst PC on "People, Processes and Production: Unlocking the Value of Your Legal Team" for the General Counsel/In-House Counsel Track on Monday, October 5 at 4:00 PM. John also prepared a video for the Home Field Advantage - General Business segment titled "You Say You Want to Arbitrate? What You'll Need in Your Commercial Contracts to Enforce Arbitration Provisions in New Jersey," which will be available at 11:00 AM on October 5. Click here to view his segment.
Karen Painter Randall, Chair of Connell Foley's Cybersecurity and Data Privacy Group, will join co-presenter Molly Arranz of SmithAmundsen LLC and moderator Malinda S. Matlock of Pierce Couch Hendrickson Baysinger & Green LLP in the USLAW Short Takes: 2021 & Beyond discussion on "Cyber Security and Data Privacy" on Friday, October 9 at 11:30 AM. The panel will discuss the current and evolving threat landscape, including ransomware attacks, business email compromise, and managed service provider and insider threat risks, along with best practices to minimize loss.
Matthew Bauer, a litigation partner in Connell Foley's Transportation and Product Liability Groups, interviews Clarence Easterday of Western Express for "Telling the Good Company Story to Offset Claims of Negligent Hiring Supervision and Training," which will air during the Lightning Round: USLAW's Practice Group 5-Minute Drills - Transportation and Logistics session at 1:00 PM on Friday, October 2.
Patrick Hughes, Managing Partner of Connell Foley's Cherry Hill office, discusses "Litigation Under New Jersey's Franchise Practices Act: The Unexpected Impact on Manufacturers and Distributors," which will be released during the Home Field Advantage - Civil Litigation segment on Tuesday, October 6 at 11:00 AM. Click here to view his segment.
Neil Mody, a partner in the firm's Insurance Coverage Group, presents "The Critical Role of Insurance in the Time of Covid-19," which will air as part of the Lightning Round: USLAW's Practice Group 5-Minute Drills - Insurance Law segment on Friday, October 2 at 12:00 PM.
Michael Shadiack, Chair of Connell Foley's Labor and Employment Group, presents "Employee Misclassification, Wage Theft and Criminal Penalties - Oh My! What New Jersey Employers Need to Know," for the Home Field Advantage - Labor and Employment session on Monday, September 30 at 11:00 AM. Click here to view his segment.
About USLAW NETWORK: Over the past 20 years, USLAW has become well known for their industry-leading experiences and provide the highest quality legal representation and seamless cross-jurisdictional service to major corporations, insurance carriers, and to both large and small businesses alike, through a network of professional, innovative law firms dedicated to their client's legal success. Now as a network with more than 6,000 attorneys spanning the United States, Canada, Latin America, Europe and Asia, USLAW remains a responsive, agile legal alternative to the mega-firms.