Overview
Michael McBride, Chair of Connell Foley's Construction Practice Group, has a family background in construction and real estate that dates back more than a century, providing him with an intimate knowledge of the industry and the legal issues faced by his clients. He regularly represents owners, developers, contractors and vendors in all aspects of real estate development and construction. Under Mike's leadership as Connell Foley's managing partner from 2010 through 2015, the firm grew by more than 20 percent.
Mike effectively resolves a wide array of disputes that often arise during the development process, from approvals to construction defects and delays, leasing matters and hazardous waste issues. He is especially adept at devising creative, cost-effective solutions to problems, especially involving governmental authorities, that can threaten to delay or derail a project.
Mike's projects include large-scale development of data centers, casinos, industrial tract and office developments, power plants, residential apartment and condominium projects, and shopping center developments. Although he is primarily focused on New York and New Jersey — including major projects in Atlantic City, Hoboken, Newark, Manhattan and Brooklyn — his practice also includes work throughout the United States and internationally in India and China.
Sought after as a speaker on construction, financing and development issues, Mike has spoken before the Annual Construction SuperConference in San Francisco, the New Jersey Business & Industry Association (NJBIA) Annual Public Policy Forum and the American Institute of Certified Public Accountants, as well as various trade groups.
Mike also represents a private equity fund that purchases, develops, leases and sells large industrial tracts in the Northeast, Southeast and Midwest. In addition, he successfully negotiated the merger of McBride Enterprises, Hudson Bay, a private real estate fund capitalized by Crescent Real Estate Equities (a REIT trading on the NYSE) and Penn Square Properties Inc. into an entity called Keystone Property Trust, a REIT trading on the NYSE that was sold to Prologis.
Mike is passionate about community service and maintains an active pro bono practice. He has worked extensively with Covenant House and was instrumental in negotiating the purchase of real estate, facilitating construction and obtaining financing for a new crisis center in Newark.
Experience
Representative Experience
Represented the seller in the sale of 37 industrial buildings in Clark, New Jersey
Represented a public company developer on numerous residential real estate projects located in Hoboken, New Jersey (Maxwell Place), Brooklyn (The Brooklyn Pier), Queens (The Long Island City Project), Manhattan (Park Avenue, Lexington Avenue, Third Avenue and First Avenue projects), Washington D.C. (a joint venture with Prudential), Pennsylvania (Plymouth Meeting) and Maryland (Bethesda)
Represented a public company developer in resolving significant disputes with adjacent property owners and general contractors
Represented the developer in the construction of a large residential project for Marymount College in New York City; successfully resolved significant construction disputes with various contractors and payment issues with the college
Represented the developer in a joint venture in merging the ground lease and fee interest, and with leasing a large industrial building located in Totowa, New Jersey, to a national tenant
Represented a public REIT in the purchase of eight industrial parks (over 45 buildings) in Greenville, South Carolina
Represented the developer of a large shopping center in Mt. Olive, New Jersey, in dispute with site contractor; matter proceeded to arbitration; successful resolution of claims against design professionals; and the site contractor
Represented a major media company in a dispute with an architect/engineer and contractor regarding building defects in the curtain wall system at its corporate headquarters facility in Princeton, New Jersey; dispute ended successfully after a 10-day trial
Represented a large financial conglomerate in dispute with window manufacturer and curtain wall contractor regarding windows spontaneously combusting at the Gateway 3 & 4 buildings in Newark, New Jersey
Represented a large regional utility in a major construction dispute with the Tosco refinery over project delays; matter settled successfully during arbitration
Represented the developer in connection with the approval, land sale and construction of UPS' worldwide data center in Mahwah, New Jersey
Represented the seller in sale of 18 industrial and office properties to a public REIT
Decisions
Vollers Excavating & Construction, Inc. v. AIG Baker Mount Olive, LLC, et al., Docket No.: MRS-L-2203-02 (Law Div., dated September 2, 2010) (bench opinion dismissing contractor's claim for fraud on account of owner's failure to procure builder's risk insurance.)
Vollers Excavating & Construction, Inc. v. AIG Baker Mount Olive, LLC, et al., Docket No.: MRS-L-2203-02 (Law Div., dated July 16, 2010) (bench opinion dismissing contractor's fraud claim and contract defenses re: alleged failure of developer to disclose groundwater and soil conditions.)
Vollers Excavating & Construction, Inc. v. AIG Baker Mount Olive, LLC, et al., Docket No.: MRS-L-2203-02 (Law Div., dated July 16, 2010)(bench opinion upholding developer's claim under the Consumer Fraud Act against contractor for substitution of inferior materials.)
In re Aetna UCR Litigation, MDL No. 2020, 2010 U.S. Dist. Lexis 98885 (D.N.J. 2010) (re: remand on a MDL matter)
In re Aetna UCR Litigation, MDL No. 2020, 2009 U.S. Dist. Lexis 66853 (D.N.J. 2009)
DeVito v. Aetna, Inc., Civ. No. 07-0418 4SH); 536 F. Supp.2d 523 (D.N.J. 2008)
Dow Jones v. Irwin & Leighton, Civ. No. 90-0010 (3d Cir. 1991) (affirming lower's courts ruling for successor liability of defendant contractor)
In The Matter of the Challenges by Chubb Colonial Life Insurance Company of America v. IHC Board, Docket No. A-2911-06T3 (App. Div. 2009)
In The Matter of the Challenge by Guardian Life Insurance Company of America v. IHC Board, Docket No. A-3635-06T3 (App. Div. 2009)
Kvaerner Process, Inc. v. Barham-McBride Joint Venture, 368 N.J. Super 190 (App. Div. 2004)
Lauchheimer v. Gulf Oil, 6 F.Supp.3d 339 (D.N.J. 1998)
Bank Polska Kasa Opieki v. Pamrapo Savings, 909 F.Supp. 948 (D.N.J. 1995)
Activities
Professional and Community Affiliations
Fellow, American Bar Foundation (2011-present)
Trustee, Atlantic Legal Foundation
Board Member, Sussex Bancorp (2017-present)
Board Member, Commerce & Industry Association of New Jersey (2011-present)
Board Member, Atlantic Legal Foundation (2010-present)
Member, Georgetown University, Board of Regents (2004-present)
Trustee, Delbarton School (2003-2009)
Trustee (1991-present) and Chairman (1991-2002), Covenant House New Jersey
Board Member, McBride Enterprises, Inc.
Board Member, The Frank McBride Company Inc.
American Bar Association
New Jersey State Bar Association
New York Bar Association
Member, Construction Lawyers Society of America (CLSA)
Presentations
Moderator, "2020 Forecast: Construction Predictions and Trends," Connell Foley LLP; Roseland, NJ (January 2020)
Speaker, "

Building Up NJ: Construction & Development in the Garden State Panel," NJBIZ (April 2019)

Speaker, "

Investors Panel," New Jersey Alliance for Action's Public Private Partnership (P3) Conference (March 2019)

Speaker, "Economic Outlook," New Jersey Business & Industry Association (NJBIA) Public Policy Forum; Edison, NJ (December 2009-2015)
Speaker, "Risks, Rewards and Consequences of DBE, WBE and MBE Programs" American Institute of Certified Public Accountants (AICPA) National Construction Industry Conference; Las Vegas, NV (December 2013)
Speaker, "How to Win a Construction Claim : Proving Damages in Construction Litigation" American Institute of Certified Public Accountants (AICPA) National Construction Industry Conference; Las Vegas, NV (December 2012)
"When to Call in the Calvary: The Construction Accountant and The Construction Lawyer," American Institute of Certified Public Accountants (AICPA) National Construction Industry Conference; Las Vegas, Nevada (December 2011)
"How Contractors Can Protect Themselves from The Financial Deterioration of Subcontractors or General Contractors/Construction Managers," American Institute of Certified Public Accountants (AICPA) National Construction Industry Conference; Phoenix, AZ (December 2010)
Annual Construction Superconference; San Francisco, CA (2005 and 2006)
News & Insights
Speaking Engagements
Connell Foley LLP - 56 Livingston Avenue, Roseland, NJ 07068

,

01.16.2020

Doubletree by Hilton, Somerset, NJ

,

04.30.2019

Forsgate County Club

,

03.15.2019
Honors
Chambers USA (2020)

Construction - New Jersey
Best Lawyers in America
(2015-2020)
"Lawyer of the Year," Construction Law - Newark (2016)
New Jersey's Top Rated Lawyers, Real Estate Law (2013, 2015)
New Jersey's Top Rated Lawyers, Inside Jersey magazine (2012)
New Jersey Super Lawyers, Construction/Surety Law (2005-2006, 2008-2014, 2016-2020)
AV Peer Rated, Martindale-Hubbell
"Inaugural James B. Lee, Jr. LifeLink Award," Inner-City Scholarship Fund of the Archdiocese of New York (2015)
Vitae Discimus Award, Scholarship Fund of the Archdiocese of Newark (2010)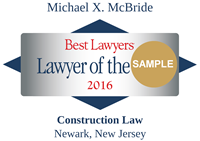 Practice Areas
Education
Georgetown University (J.D., Honors, 1978)
Stanford University (B.A., Economics, cum laude, 1975)
Admissions
New Jersey
New York
United States Court of Appeals for the Third Circuit
United States District Court for the District of New Jersey
United States District Court for the Eastern District of New York
United States District Court for the Southern District of New York
United States Supreme Court